Big congratulations to Brianna, whose pub day for FAMOUS PHONIES: LEGENDS, FAKES, AND FRAUDS WHO CHANGED HISTORY is tomorrow! This book is the first of two (and hopefully many more!) in her Changed History middle grade series and, I have to admit, probably one of the most fun projects that I've worked on so far. Brianna has a hilarious, quirky writing style and the people she profiles in the book are so interesting -- definitely a great book for any history buff no matter their age. I'm excited for you to learn more about Brianna and FAMOUS PHONIES!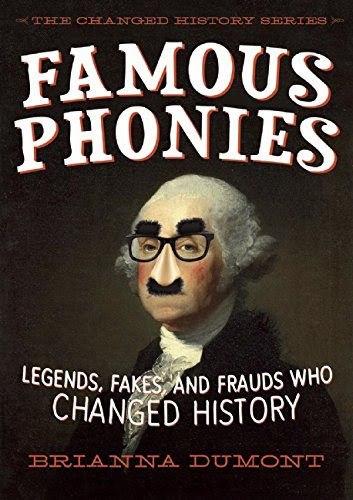 So, how did you come up with the idea for this book/series and what made you decide to gear it towards children rather than adults?
Like many books, Famous Phonies started out as a completely different idea. The original proposal was for a book about thieves who changed history. It evolved over the course of eighteen months into this multi-book series. I've always been interested in the so-called "underbelly" of history, which to me is infinitely more interesting than memorizing dates and battles and such.
As for writing for children, that's easy. If I can get a kid interested in another side of history, that's what I'm after. Besides, I think all children's writers believe deep down that they've never grown up. Call it the Peter Pan syndrome, but I'd prefer reading and writing children's books all day.
What has researching these books been like? And how did you choose which historic figures to profile? Can you tell us about your favorite ones and maybe some that didn't make the cut?
I probably considered thirty different historical figures for the book, but ended up with the twelve you see. I can say with 100% certainty that I spent way more time researching than actually writing. For every week of research, I probably spent a day of writing, which is fine by me since research is my first love. Maybe that's why I insisted on finding more and more people to consider—I loved the search! I also strove to find a good mix of well-known people (whose stories hadn't been fully told for kids yet) and lesser known figures. To that extent, I think my favorites are the lesser known ones. Prester John is incredibly cool. An imaginary guy who was invented to stir up pro-crusader sentiment and who "lived" on for hundreds of years, spurring crusades and exploration. It doesn't get much more awesome than that. My husband's favorite is the Turk, though. Anything with robots gets his vote.
I did write a whole chapter for Mary Magdalene so her story could finally be told, but she ended up not making the cut. I think when you've got to figure out how to say the word "prostitute" without actually spelling it out, there's a fundamental problem.
When writing for a middle grade audience, did you have to tone down any sensational facts about these people or eliminate more scandalous details?
I try not to tone down anything. Kids are very perceptive, and they'll probably figure out if you're trying to hide something. Anyway, if it's scandalous, it draws their attention. Why not harness that? If it's super controversial to this day, as in the Mary Magdalene example above, then it's best not to put it in there. But on the whole, I didn't cover up instances of nakedness, lying, or even cannibalism. I didn't try to gloss over it quickly, either. When famous people are given this glossy sheen and treated as super heroes, we're doing a disservice to them as a person.
You have been working really hard at promoting FAMOUS PHONIES. Can you give other writers advice given what you have done?
Reach out to other successful authors. You can't know everything, and the business side is one place where I think many writers are at a loss. I contacted a few middle grade writers whose work I appreciate and asked for their advice. (Another reason I love writing for kids—the authors are so friendly!)
Second, set out a day each week to work solely on promotion. I'm busy writing the second book of the series, Fugitives Who Changed History, but I make sure to give this first book, which I worked so hard on, its just due.
You have had a very interesting journey to the final title and cover image for this book. What was that like and what have you learned about what an author can do when it comes to voicing an opinion over elements of the book that aren't strictly in his/her territory, i.e. the actual writing?
Speak up. I read a book about the journey your book takes to the bookshelves, and in it, the author, Susan Page, says there are two things that you must (and should) fight for—the title and the cover of the book. It's hard to be a pain to the editor you want to impress, but if something comes back that you're not happy with, you've got to speak up. You're the one who has to live with it forever. That being said, I've talked to authors whose stories got turned into graphic novels against their wishes or who didn't get listened to. That happens. But you'll never know unless you ask. Make sure you're polite, tell them your concerns in a thoughtful letter, and bring alternate ideas to the table. Be open, be flexible, be kind. Everyone wants your book to succeed—they just have different ideas on how to go about it.
Speaking of journeys, your road to finding a publisher was a crazy one, too! Do you think your story can inspire other authors having a hard time finding a home for their work and can you tell us about it?
Like they always say: patience and perseverance. There's really nothing else you can do during the waiting period. Once you receive feedback, take it honestly, leave your ego behind, and revise, revise, revise. Good books find good homes eventually.
Tell us about the next book in the series! You also are working on other projects - what are those?
Fugitives Who Changed History is the second book, due out a year from now. I'm currently halfway through the first draft and feeling good about it. This time, I really wanted more girls in the mix, and fugitives, surprisingly enough, gave me a great outlet for that. The book is half women, half men. There are some really fantastic stories in there. Did you know that the world's greatest pirate was a Chinese woman? She commanded 70,000 pirates in her hey-day, the largest confederation of pirates the world has ever seen. So it's incredibly fun.
I like to keep a few novels in my back pocket to work on during weekends and weeknights. Writing isn't just a career, it's also my hobby. If I take time off, it's only a day or two before I'm doodling scenes and characters. Since it's not really work, I love having multiple projects going at once. Middle grade fantasy and historical novels have been favorites of mine since I was a kid and not much has changed. So I've been simmering away at a historical fiction piece and a fantasy series for about a year now. Then, just because I like the variety, I also work on a memoir when the mood strikes. It's an industry/millennial piece and a little bit of a coming of age story. Never boring here!
Any advice for middle grade writers out there?
Get involved in your writing community. Join a critique group online or become involved in your local chapter of SCBWI. Get support and help from others. You'll be rewarded tenfold.