I think all this being busy finally caught up to me because I was
tired
this past week! Lots of things to stay on top of, lots of things to read, and lots of things to do. I spent most of the week convinced there was something I was forgetting, and remembering phone dates in the nick of time.
In the midst of all this, I was very excited to receive ARCs for Susan's book on Monday when I went into the agency, and thought they looked great!
I'm also over the moon about an offer I got last Friday from Skyhorse for Erin Peabody's amazing MG non-fiction proposal for A WEIRD AND WILD BEAUTY: THE STORY OF YELLOWSTONE, THE WORLD'S FIRST NATIONAL PARK. Go, Erin!
In other news, Emily and I are working on spiffing up the website, and I am going to be helping out creating content, updating different parts of the site, and be an admin for Prospect's Google+ page! I actually really enjoy doing this kind of stuff, and feeling like I am doing something positive for the agency - I just wish it wasn't so hard for me to find time to do it.
I think it's sort of similar to the fact that I enjoy cleaning and doing laundry , but find it frustrating to have to find time in my week to squeeze it in. This past Saturday was a rare day when I didn't have plans with friends, family, or John, so I let myself catch up on things like cleaning and deciding which clothes I wanted to donate, etc. I know, I'm a weird child and my mother's pride and joy :)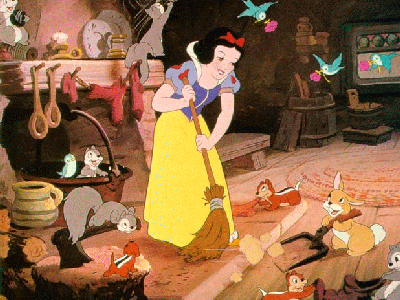 Not to her step-mother, of course, but I am sure that Snow White was also a mother's pride and joy.
Last thing for now: if you want to put a smile on your face, check out Prospect's new Prospect Portfolio. I just love everything our illustrators do, and Teresa did such a great job putting it together!