So I got some great news last week, very unexpectedly. Dean, whose book MURDEROUS MINDS pubs March 6, has been invited to launch his book at Brainwave series at the Rubin Museum. Brainwave pairs scientists with other figures to talk about how our minds work. Last year, Kevin Dutton, the author of THE WISDOM OF PSYCHOPATHS, was paired with Michael C. Hall of Dexter fame!
I am both incredibly excited for Dean and a little heartbroken that Michael C. Hall has already been part of Brainwave...John loves Dexter and he's gotten me hooked on the show. Looking forward to seeing that happen and also hopefully lots of book sales for Dean. This = exciting news.
Related to books publishing, but on the other end of the spectrum, Jessica's pub date for THE LOOKING GLASS, originally in January, has been pushed back to April. This = not so exciting news.
I'm hoping that the extra time to publish will mean some extra attention for Jessica and for the opportunity for her to get involved in Month9 giveaways, blog interviews, and the like. She is technically my "first" author, since I met her back during my Writers House days, and I'm going to be so happy when her book is in print and getting great reader feedback!
Also, countdown time for Dan, who will be my first published author!! THE CLEARING pubs on October 29 (very soon!) and you can pre-order it on Amazon. If you're in Canada on November 2, you should consider dropping by his launch party at A Different Drummer Books in Burlington, Ontario and picking up a copy in person :) Obviously, this is very exciting news.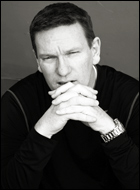 This is who you should bug for an autographed copy.
Final news for now (which is not exciting): I have learned a valuable lesson about submitting in the summer. It sucks. Most of the projects I sent to editors from June-August are still be considered/read, and I know the extra-long wait time is making some of my authors antsy. I don't blame the editors, because I know how overwhelming the summer months can be and how difficult it is to bring a project to the table during prime vacation-taking time, but my new rule of thumb is to hold off on sending anything out during summers and around the winter holidays.