You may remember me holding my breath about getting an offer from Random House for THIEVES WHO CHANGED HISTORY, a proposal by my client, Brianna.
Well, I'm on pins and needles again, waiting to hear from a senior editor at Sterling.
She loves Brianna's proposal and wants to create a non-fiction series with it!
Her acquisitions meeting was yesterday (it was supposed to be on Monday, but it got moved), so I'm hoping to hear back from her soon!!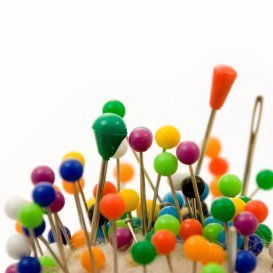 When I Google searched for images of "pins and needles,"
everything that came up was really creepy except for this!
I was out in Jackson Heights last night with Kat and Wes (both editors), as well as another editor from St. Martin's and her boyfriend. We went to the Jackson Diner, which (you wouldn't expect it from the name) is a great Indian restaurant. We were talking about acquisitions meetings for a bit and how they each have different rules/setups.
I'm meeting another editor/friend tonight! Her name is Laura and she was my intern when I worked at Writers House. She's an editorial assistant at Penguin now and we are going to go to the South Street Seaport and Pier 17 tonight, which should be a lot of fun! Fred and I took Andrey there on his last night in New York and I've been wanting to go back ever since.
So basically this week, I've been having a lot of fun while also obsessively checking my inbox.