I am extremely happy to report that my client, Jessica Arnold, has received a multi-book deal for her debut work, THE LOOKING GLASS! The novel is a young adult mystery, set in Maine, and is about the paranormal happening surrounding a fourteen-year-old girl, named Alice, who is has an accident in a swimming pool that leaves her in a coma.
When Alice wakes up in the lobby of the B&B where she has been vacationing with her family, she notices that everything looks different. The cheap desk lights have been replaced with gas lamps, and the linoleum tiled floor with hardwood and rich Oriental carpeting. The most disturbing difference though is the artwork. As Alice goes through the hotel, she sees that the paintings on the walls are all of the same woman: Elizabeth Blackwell, the insane actress (and rumored witch) who killed herself in the hotel in the 1880s.
Trapped in the 19th century version of the hotel, Alice must figure out a way to break Elizabeth's curse (with the help of Elizabeth's old diary and Tony, the son of a ghost hunter who is investigating the haunted B&B) before she becomes the inn's next victim.
I'm so excited for Jessica and am looking forward to seeing her manuscript become an actual book!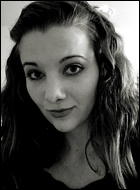 The lovely Jessica Arnold!
The editor at Random House who was considering THIEVES WHO CHANGED HISTORY, the non-fiction project of one of my other clients, Brianna, unfortunately decided to pass on it, but getting an offer for Jessica has only revved up my enthusiasm for Brianna's proposal and all of my other clients' manuscripts. I only take on projects that I truly believe in, so I know that I will eventually be able to give them all the happy news that I was able to give Jessica this past week!
Keep rooting for me! I'm on a roll!
P.S. I'm off to Rhode Island this Friday for the Ocean State Summer Writing Conference. If you're going to be there, make sure to introduce yourself to me. When I was at Backspace, a couple writers came up to say hello and mentioned that they had been reading my blog, which made me feel great!